Talk to strangers,
Make Friends!
Experience an exciting free Omegle text alternative to Find friends, connect with strangers, and talk with different people in random anonymous chat rooms. No registration required.
Start Chatting
Reach people like you
Anonymous Chat, Meet new people
Find female and male strangers worldwide, the new modern Omegle alternative. Connect with real people, enjoy ad free chats, and build genuine relationships.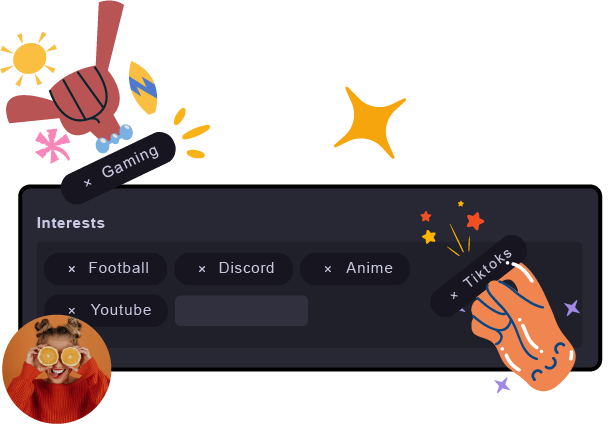 Strangers turned friends
Chat with Random Strangers With Similar
Interests
Talk to online strangers who love what you love, Chat about hobbies and enjoy fun conversations - all from one place! Making new friends based on interests is made easy.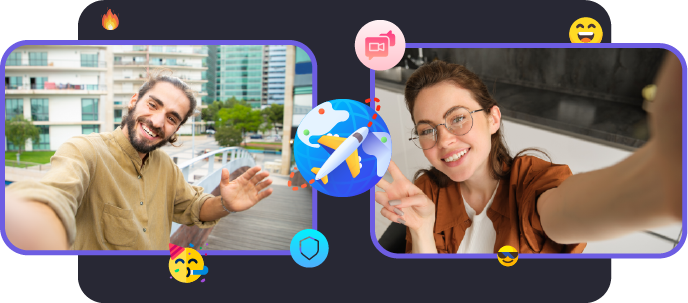 Say goodbye to pesky bots and spam
Spam and
Bot free

chatrooms

Unlike some other websites coughOmeglecough , we actually care about your chat experience and take the necessary steps to keep the bots at bay. So come on in, the conversation's lovely and bot-free!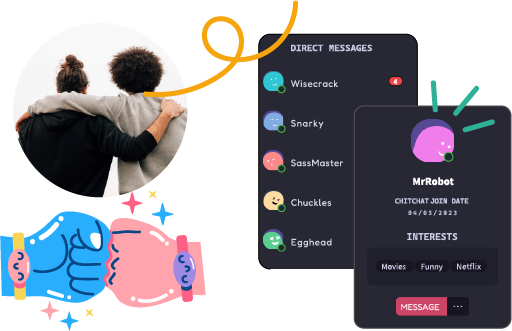 Friends at your fingertips
From Strangers to
Friends
Turn random online chats with strangers into lasting friendships, our features makes it easy to add someone you've hit it off with and catch up on past conversations.
The best site to Chat with Male and Female Strangers.
Many available chat apps offer various features for online dating, meeting strangers or chatting without bots, but not all of them are modern, secure and feature rich with a diverse interesting people from around the world.
Fast & Familiar
A fast and lightweight chat app, with a design similar to popular platforms like Discord.
Add Friends
Expand your relationships and stay connected with strangers by sending and accepting friend requests.
Ad Free
Chat without distractions in an ad-free zone! Enjoy uninterrupted conversations without annoying ads.
Spam protection
Are bots ruining your quest for love? We use AI and Bot Protection to get rid of robotic nonsense.
Chat History
Ever had a delightful chat and wished you could revisit it? Well we've got Chat History.
Media Sharing
With Premium you can share images with strangers, with their permission of course.
Don't take our word for it
We've asked random strangers both boys and girls to try our platform and this is what they had to say
— Chitchat.gg made connecting with strangers fun and easy! It's user-friendly, quick, and I've had engaging conversations with girls worldwide. A fantastic way to meet new people and find friends.

I recently felt lonely and struggled to make friends, but this platform changed that. It's simple to find someone to chat with, and I've made new friends and added them on Discord and Snapchat. A real game-changer for me!

Stranger #2
Skeptical at first, I quickly became a fan of this platform. It's without spam, well-moderated, and helped me connect with boys and girls from around the world. I've used platforms like Omegle but this one is the best.

Stranger #3
I've tried a lot of platforms to talk to strangers but they were flawed, but chitchat seems like the best alternative and I've been really enjoying it! I hope it becomes the platform number one because it really deserves it